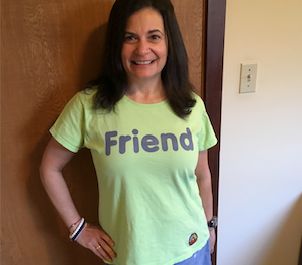 IT ALL STARTED IN A CLASSROOM ON APRIL 28, 2015.  AS THE MORNING MEETING BEGAN, I NOTICED AN INSPIRING TEE SHIRT WORN BY A PRESCHOOLER.  LATER THAT DAY AT NAP TIME, I SAT DOWN IN THE DARK ROOM, USING THE LIGHT ON MY PHONE AND CREATED WHAT WOULD BECOME THE FIRST MESSAGES FROM MONKEY BREAD PRESCHOOL.  AS AN EDUCATOR WITH A MASTERS DEGREE IN TEACHING AND OVER 25 YEARS OF CLASSROOM EXPERIENCE, THESE FUN AND EMPOWERING SAYINGS ARE A MEANINGFUL EXTENSION OF THE LOVE I HAVE FOR WORKING WITH CHILDREN AND THEIR FAMILIES.

THE ORIGIN OF OUR COMPANY NAME AND LOGO COMES FROM COOKING ENRICHMENT CLASSES THAT I TAUGHT TO 3, 4 AND 5 YEAR OLDS.  ONE OF THE MOST ENGAGING AND YUMMY DISHES WE BAKED WAS MONKEY BREAD; A PULL APART, CINNAMON SUGAR TREAT.  IT'S "POSITIVELY, IRRESISTIBLE!"
THE MONKEY BREAD PRESCHOOL ONLINE STORE WAS ESTABLISHED IN SEPTEMBER OF 2016.
THANKS SO MUCH FOR YOUR INTEREST.  I HOPE YOU ENJOY OUR ADORABLE AND EMPOWERING TEE SHIRTS.
EDUCATIONALLY YOURS,
RICKY